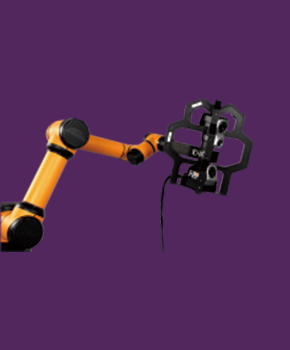 AutoScan-DUO

─
오토SCAN은 효과적인 자동 3D 측정 시스템으로, 자동, LED 광학 추적 및 레이저 3D 스캐닝 지식을 통합한다.
오토SCAN은 정확도, 측정 범위, 효율성 및 품질에서 큰 이점을 누리며 경험 없이 쉽게 작동하며 온라인 3D 측정을 자동으로 완료한다.
오토SCAN은 별도의 추적 카메라로 위치하며, 기존의 온라인 검사 시스템과 비교하여 위치 정밀도가 높고,
업계 4.0에 강력한 기술 지원을 제공한다.
Tech Specs
Type

AutoSCAN-DUO

Measurement range
Up to 10m
System Accuracy
Up to 0.03mm
Spatial accuracy
2.5m
0.04mm
6m
0.08mm
10m
0.12mm
Laser class
ClassII(Eye Safe)
Measurement rate
480000 measures/s
Stand-off distance
300mm
Depth of field
250mm
Output format
stl、stp、igs、ply、xyz、dae、obj、asc
Environment requirement
Work temperature
-10℃~45℃
Storage temperature
-25℃~65℃
Humidity
<95%,no condensation
AutoScan-DUO
AutoSCAN-DUO is upgraded by AutoSCAN-SOLO with wider measurement range and higher precision.



Unique Tracking Technology
Led optical tracking technology, without sticker, initiative location, deliver top precision 3D digital solution.





Fully-Automatic
AutoScan system delivers low-volume inspection without labor, off-line programming, easily operates without any experience, liberates labor from the traditional measurement.





Fast Speed High Precision





Self-generate Report





Military quality
Carbon material with aerospace grade to ensure premium quality